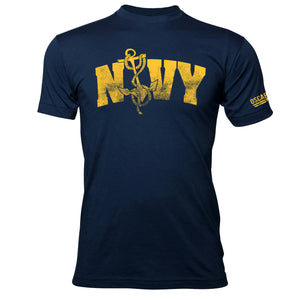 NAVY ANCHOR TEE
Regular price $29.99 Sale
The sea is an incredible beast. It reaches impossible speeds, depths and distances. It cannot be beaten with the strongest fist, the sharpest knife or the fastest bullet.
In America's Navy, water and salt flow through their veins in the same proportion as the sea. That mighty force is the lifeblood of the greatest Navy ever to sail upon it, slip beneath it or fly above it. It shapes Americans from every corner of the nation into Sailors with the courage to protect liberty back home. Bonding them with the commitment to serve with honor. The sea propels every one of the men and women to defeat or defend. To comfort or to awe. To victory or to the rescue.
Slightly tapered to be less boxy than the mass-market tee. Nothing drastic but you might want to go one size larger if you're on the fence.
All the best of cotton and poly meet in this pulled-together ringspun, 30/1 knit. If you don't speak t-shirt geek, that means they are soft and smooth with a high thread count.
Some of our designs are intentionally faded or cracked but our inks always do what they are told by our printers.
Poly-Cotton (50% Polyester / 50% Combed-Cotton) construction
A ribbed collar that won't lose its shape
Machine wash cold with guts and grit

Tumble 

dry low