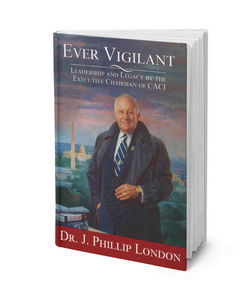 EVER VIGILANT | Leadership and Legacy by the Executive Chairman of CACI
Regular price $42.95 Sale
How do successful entrepreneurial leaders become legendary? Many characteristics lead to a legacy of exemplary leadership and enduring success. Entrepreneurial spirit, good character, risk-taking, commitment, initiative, confidence, independence, vision, determination, persistence, and endurance proved to be the winning combination for Dr. J. Phillip (Jack) London. These attributes are interwoven throughout his lifetime as narrated in this memoir that reveals his transformation from a kid living in rural Oklahoma to a midshipman at the US Naval Academy, as a Navy Aviator, followed by President and CEO of a government contracting company and culminating in his role as Executive Chairman and Chairman of the Board of CACI International, a Fortune 500 company employing over 23,000 people in 155 offices worldwide.
As a successful defense industry executive and expert on business ethics for almost 50 years, London tells us how he became a pioneer in the federal contracting industry and developed and built a successful business that continuously excelled and stayed strong for five decades through changes in the federal landscape. We see how his unique vision and strong leadership shaped CACI into a multinational information technology company to support some of the most important and critical national security priorities in America. Drawing upon his military experience, he set a high bar for business leaders across the industry in establishing the standard for leading with integrity.
Based on London's personal, military and corporate experiences and many real-life examples, this book presents time-tested lessons that are both relatable and impactful in defining an enduring legacy through exceptional leadership.